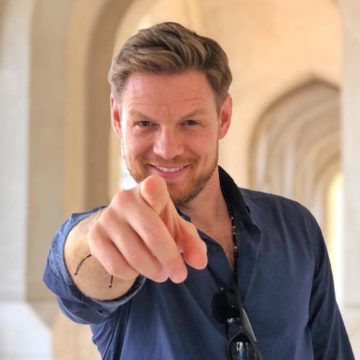 Marko Mladenovic
The Best in Business!
It's been 3 years now since I've done your training and I am still in such a peaceful, blissful, joyful state. I feel like I have finally found the answers on my question "Who am I?"
Robert, your state of being, your zero judgement of others, your mastery of quantum linguistics, your deep understanding of human nature, your congruency, passion and the tools you have given us… are absolutely priceless.
Prior to your training, I've attended well over 30 different courses and met many trainers in the world. You are one of a kind.
Forever grateful, Marko
Overall best learning experience ever. The learnings are transforming, life enhancing, infinitely limitless possibilities and applications. This will revolutionise / transform my medical practice and human interaction beyond measure.

Dr. Kgantso T. Maloba

And it was worth every penny… I wanted to share my experience on the RSCI coaching course. For me, it took a lot to come to the course, not because I did not want to, because I really did. All the reviews I had been personally told were amazing, but it was a challenge for me; logistically and financially. After much thought, I booked my space and took part in the training.

It really was a magical 10 days. Being in a room filled with people who just 'got you', in every way, wanted you to succeed and shared such wonderful feelings and expressions of love, was such a magical experience for me. I don't think I have ever felt such togetherness with a group of people. Robert himself is a very intelligent man; his knowledge, patience and teaching ability was what made the course what it was; interesting, insightful, enlightening and transformative. Change often can take so long, and many of us are on our own personal quest to finding fulfillment and joy.

In one exercise that I was taught on this training, my whole inner self changed; I experienced the most unbelievable feelings of pure inner love, joy and fulfilment. And just for this one technique the every penny was worth it. The techniques you learn are really quite transformative, techniques you wish you would have learnt oh so long ago. I highly recommend this course, and Robert himself, if you are looking for real change, techniques that work, and something fresh, fulfilling and magical.

Sirin Ortanca

Hello Robert,

There was so much more I wanted to say last Saturday evening when I stood up there holding my certificates… but the tears came flooding (and the knees started shaking!!) and I just couldn't get the words out… It was rather strange for me, as I stand up and speak confidently in front of people ALL the time – But I guess this time was rather different…

Anyway – I really just want to say a proper THANK YOU to you! … A Thank you from the very bottom of my heart for an incredible 8 days of learning, growing and awakening! What we experienced with you, one cannot put a price on, and I'm grateful beyond words for everything I gained… and everything I let go of during this time. Thank you for helping me find my wings to fly…

Have a happy week, and see you soon for PBE! :-)

Love, Debbie Debbie Hunt

This journey over the past 8 days has been phenomenal. I cannot think of any place in the world I would rather have been.
This is the beginning of the rest of my journey!!! Thank you!!

Sibongile Komati